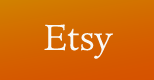 I would like to introduce everyone to a great resource for crafters and artists of all things handmade. It's called Etsy and rhymes with the girls' name Betsy. Etsy is an online marketplace where you can buy and sell items that are handmade, as well as vintage goods and crafting supplies.
Creating an Etsy shop is very easy, and free. And as you start to list items you will find it is also very inexpensive (20 cents to post an item for up to 4 months). You can connect it easilly to your existing Paypal account or create one of those very easy if you don't have one yet, and when people purchase your hand crafted items, the money goes right into your bank account.
They have all sorts of creative ways to advertise your goods, connect and communicate with other artists and give or recieve feedback. Their blog is very informative, you can find a link to it at the bottom of my page in my Blog List.
As you can see, to the right of this blog they even have a widget called the Etsy Mini to put on your blog or website which can connect people directly to your shop.
I fel every artist i know could benefit from the worldwide coverage. Since opening a shop at Etsy my jewelry has been seen by people all over the world. Oh, yeah, did i mention they have a great little globe that spins and zooms in to show you where people who love your stuff reside. It's pretty cool.
Check it out at www.etsy.com